Dental Crowns & Bridges at Adelaide Dental Spa
Our custom dental crowns and bridges help protect your smile when there are broken or missing teeth. Each one is carefully designed to fit in with your bite, both anatomically and aesthetically. That way your smile doesn't just perform and feel great, it looks healthy too.
Although most people choose ceramic crowns and bridges, we provide restorations in a variety of materials to fit the case of each individual. Some examples include porcelain fused to metal, gold and Emax zirconia crowns.
We've equipped our practice with advanced technology like CEREC 3D equipment and in-room ceramics manufacturing. Thanks to digital mapping and design, we can scan your prepped tooth and have a same-day crown made and placed before you leave our practice.
If additional integrity is needed for specific teeth (such as for instances where people grind or clench frequently), we're able to strengthen the porcelain with a special furnace in our office, rather than send the restoration off to a lab. Everything is done straightaway. However, if we do need an expert technician to help design your restoration, the overall process is generally completed over the course of two visits a couple of weeks apart.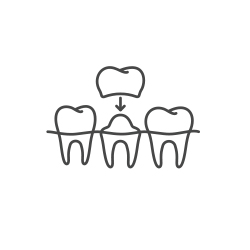 A crown fits over your tooth like a cap or helmet, protecting what's underneath. We use them to preserve teeth that are especially prone to breakage or fractures, such as those with large fillings or recent root canal treatment. It ultimately extends the life of the tooth.
Crowns can also be used for improving the appearance of teeth with discoloration or alignment concerns. They provide both functional as well as aesthetic advantages for compromised smiles.
If you're replacing a missing tooth with a dental implant, you'll need a restoration such as a crown on top of your implant abutment. This final step will top off your tooth replacement.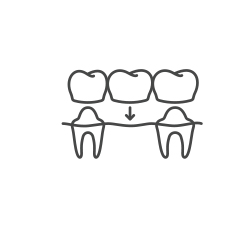 Dental bridges are ideal for replacing one or two missing teeth. They are like a series of crowns joined together, which are anchored on top of teeth adjacent to the gap. You might want a bridge if you don't like the idea of dentures or false teeth, which have to be taken out at the end of the day. Bridges are a permanent part of your smile, so there is no need to remove them at night.
Bridges offer an advantage over dental implants, in that they're a bit more cost effective. They're also less invasive compared to implant surgery. However, bridges aren't suitable for people whose supporting teeth aren't appropriate for crowns. Since the teeth anchoring each end of the bridge will need to be cut down, we do not want to alter a healthy tooth (in such cases, an implant would be better). Rather, it's best to use teeth that may already be compromised by existing dental work.
Which is Best for Me?
Schedule your crown and bridge Port Adelaide dental exam to consult with one of our friendly, experienced dentists!
CONTACT US
* Any surgical or invasive procedure carries risks. Before proceeding, you should seek a second opinion from an appropriately qualified health practitioner.

Dental Crowns and Bridges Port Adelaide SA | (08) 8341 1393