Dental Fillings at Adelaide Dental Spa
Dental decay compromises the structure of teeth, leading them to deterioration and fractures. Even worse, cavities can spread into adjacent teeth, involving multiple areas before the infection is treated. Removing the decay and repairing the cavity with a dental filling offers both restorative and cosmetic advantages, filling in the area with white composite that bonds closely with your tooth structure.
Direct and Indirect Fillings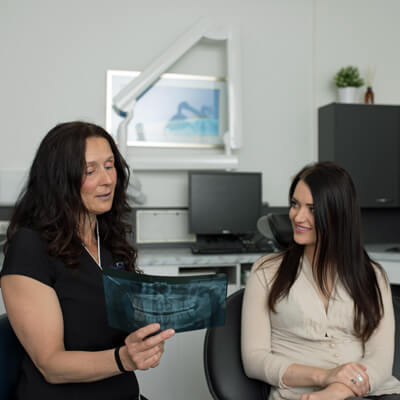 Traditional fillings are direct restorations, which we shape by hand. After we clean away the decaying tooth structure, a matching composite is placed into the opening and cured to the tooth. The colour is specially matched so that your tooth appears whole again.
An indirect filling is one that we make for larger areas of structural damage. After we've prepped your tooth, a 3D scan is taken to create a virtual model of the area being treated. From there, our in-house CEREC CAD/CAM milling machine creates a custom indirect filling from a solid block of porcelain. Indirect fillings are more durable when there's a larger area to repair. Because 3D scanning is so accurate, the indirect restoration will fit your tooth precisely as possible.
Both of these types of fillings are made and placed on the same day at Adelaide Dental Spa. There's no need for a separate follow-up appointment.
The first step to treating tooth decay is an exam. During your evaluation, we'll fully inspect all of the hard and soft tissues throughout your smile. A set of X-rays will also be taken to check between and inside of each tooth, spaces that aren't visible during a visual screening. We'll also take high resolution intraoral photos of any areas of concern.
Let us know if you're experiencing cavity symptoms like:
Tooth sensitivity
Food or floss catching between teeth
Pain when eating or drinking something sweet
Discomfort when you bite down
A visible discoloration or hole in your tooth
After we gather all of the information that we need, we'll share our findings with you so that you can be active in determining the next steps of care. All appropriate treatment options will be reviewed and discussed (including the pros and cons of each), so that you have flexibility to choose the best one that fits your needs, budget, time frame and lifestyle. We want you to be fully informed about which treatment is best suited to you.
We encourage our patients to eat a light meal about an hour ahead of their appointment, to help prevent any light headedness. Average fillings take about 30-60 minutes to complete, but we can provide you with a more detailed estimate at the time of your initial exam.
To keep you comfortable, your tooth will be completely anesthetised so that you don't feel anything other than a small amount of pressure. We also offer sleep dentistry (oral sedation) medication if you feel particularly anxious or need multiple restorations completed on the same day.
Request an Exam Today
It's important to treat cavities before they turn into abscessed teeth. Request your dental filling Port Adelaide treatment today.
* Any surgical or invasive procedure carries risks. Before proceeding, you should seek a second opinion from an appropriately qualified health practitioner.

Tooth-coloured Fillings Port Adelaide SA | (08) 8341 1393