Dr Delia Yeak (Dentist)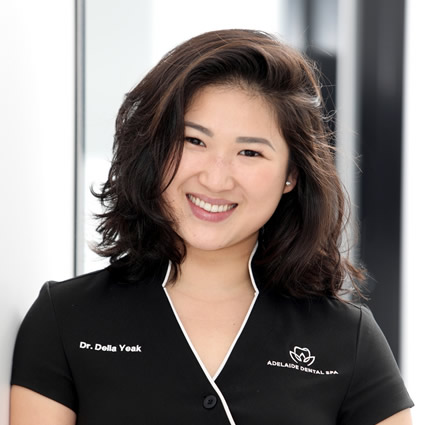 As her mum was a dentist, Dr Delia grew up in a dental clinic and has always had an interest in dentistry's artistic side. For Dr Delia, the most fulfilling aspect of being a dentist is the satisfaction of helping each patient achieve a confident smile.
With a particular interest in working with children and nervous patients, Dr Delia helps to put patients at ease at every visit. She also likes to help relieve patients' dental pain.
Education and Professional Development
Dr Delia completed her Bachelor of Dental Surgery at Adelaide University. She stays abreast of the latest in the field by taking professional development courses. To date, she's taken a course on wisdom teeth extraction and courses on ClearCorrect.
Crafting Beautiful Smiles
Though she is enthusiastic about all aspects of general dentistry, Dr Delia has an artistic flair for cosmetic dentistry. She is highly skilled in clear aligners, veneers, smile makeovers and full mouth rehabilitations.
I'm passionate about helping others achieve the smile of their dreams!"
Outside the Practice
When she's not at our Port Adelaide practice, Dr Delia likes to play tennis, hike and go to the beach with her mates.
Book an Appointment
Dr Delia aims to make your visit to Adelaide Dental Spa as comfortable and enjoyable as possible. She can't wait to meet you. Schedule your time today!
CONTACT US

Dr Delia Yeak | (08) 8341 1393